The Johnson/Turner Legal is proud to announce firm partners Katie Jarvi and Eric Parker have been awarded Best Lawyer honors.
FOR IMMEDIATE RELEASE
Forest Lake, MN, November 9, 2022— The Johnson/Turner Legal is proud to announce that its team of lawyers have been selected in the new 2023 Best Lawyers awards, where over 140,000 lawyers are evaluated.   The story of these awards have been picked up by hundreds of media outlets including AP Newswire.
The Best Lawyers process is peer reviewed, through and through.   Select attorneys use a multiphase selection process designed to capture as accurately as possible the consensus opinion of leading lawyers about the professional abilities of their colleagues within the same geographical area and legal practice area.
About Best Lawyers Honors: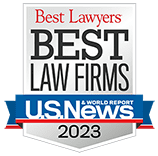 Best Lawyers employs a sophisticated, conscientious, rational and transparent survey process designed to elicit meaningful and substantive evaluations of the quality of legal services. With a history of evaluations in over 75 countries in 150 practice areas and 140,114 lawyers recognized, two of Johnson/Turner Legal's own partners have been awarded the Best Lawyers Honors.
Katie Jarvi is a Partner, Attorney, Family Law Mediator, Attorney Development Lead, & FairWell Mediation Lead. Jarvi offers a calm voice of reason with a thoughtful and proactive vision, and she shares in her clients' struggles and delights in their successes, of which they have enjoyed many. Katie has been awarded the prestigious Best Lawyers honors.
Eric Parker is a Partner of Johnson/Turner, Legal Recruiting Lead, Attorney & Family Law Mediator who asks his clients to talk to him like they are friends – and he means it. He's clever and pragmatic but a bit unconventional, too: he once held a meeting while out for a drive with a client because it was the only way to calm her baby. Parker recently became a Super Lawyer for the first time; before that, he was a Rising Star for the past six years.
About Johnson/Turner Legal:
Johnson/Turner Legal is a highly strategic team of lawyers in Minnesota with powerful legal knowledge. They're committed to providing each and every one of their clients with best-in-class legal service by assigning an experienced Minnesota Attorney, two Paralegals, a Client Engagement Specialist and a Life Coach to every case, ensuring they receive the counsel and compassion you deserve.
Johnson/Turner Legal and its employees are involved with TEFFLA (The Education Foundation of the Forest Lake Area), the YMCA, the Simpson House in Minneapolis, Wills for Heroes, Tubman (Family Crisis & Support Services), Woodbury Chamber of Commerce, North Metro Chamber of Commerce, Forest Lake Area Chamber of Commerce, Forest Lake Rotary, the Woodbury Foundation and more.
If you're looking for a Family Law Lawyer, Criminal Attorney or Estate Planning Lawyer, visit https://www.johnsonturner.com/ and discover their top-quality services.
Media Contact:
Jared Sundall
Johnson/Turner Legal
56 East Broadway Avenue, Forest Lake, MN 55025 (651) 371-9117