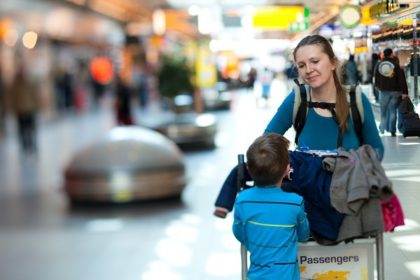 As today's society becomes more and more mobile, it is more and more common for parents to want to take their children on international trips. International travel can help broaden a child's world view and teach him or her about new cultures and ways of thinking. In some cases, there may be family members living in a foreign country, and international travel provides an essential method of connecting with that family and the family's heritage. After divorce or a custody action, the desire to travel internationally is no less important or valid. However, there will be some additional complications that parents need to consider.
Before planning an international vacation, parents need to reference their custody order. In the vast majority of cases, there will not be any particular restriction on international travel. This does not mean, however, that it will automatically be possible for you to complete all of your international travel preparations without the help and assistance of your former spouse or co-parent.
In order to travel internationally, both the parent and the child will need a passport. If you and your former spouse share joint legal custody of the child, you will both have to sign the application for a United States passport before it is approved, if your child is age sixteen or younger. If the child is over the age of sixteen, the child and one parent may appear to apply for the passport. If you decide that you want to travel internationally with your child and the other parent refuses to cooperate, it is possible for you to file a motion with the court. The two-parent consent law in place for children sixteen or younger may be overridden by an order from a Minnesota court. Conversely, if your child already has a passport and you are concerned that your former spouse may take the child and leave the country without permission, and try to withhold that child in a another country, you may apply to the state court to ask it to remove the child's passport and hold it until such a time that the danger has passed.
Proper planning in advance of planned international travel is key to a smooth trip, so those people planning trips should plan their legal strategy well in advance of the scheduled trip.If you have questions about your rights and responsibilities regarding travelling with your children, contact us today at (320) 299-4249. We look forward to discussing your child and your goals.